About the Student Research Competition
Program Overview
The ACM Student Research Competition (SRC) offers a unique forum for undergraduate and graduate students to present their original research at well-known ACM sponsored and co-sponsored conferences before a panel of judges and attendees.
The SRC program is administered by Nanette Hernandez of the ACM, Douglas Baldwin of SUNY Geneseo and Adrienne Decker of University at Buffalo.
There are two rounds of competition at each conference hosting an SRC and a grand finals competition:
First Round Competitions
The first round is usually referred to as the Poster Session. This is your opportunity to present your research in the areas specified in the conference's first Call for Submissions. Judges will review the posters and speak to participants about their research; a group of semi-finalists will be chosen to present at the second round of the competition.
Second Round Competitions
Semi-finalists continue by giving a short presentation of their research before a panel of judges, with a supporting power point presentation. Evaluations are based on the presenter's knowledge of his/her research area, contribution of the research, and the quality of the oral and visual presentation. Three winners will be chosen in each category, undergraduate and graduate (Masters or PhD program), receiving $500, $300, and $200, respectively.
The SRC Grand Finals
First place undergraduate and graduate (Masters or PhD program) student winners from the SRCs held during the year advance to the SRC Grand Finals. A different panel of judges evaluates these winners against each other via the web. Three undergraduates and three graduates will be chosen as the SRC Grand Finals winners.
Judging
Judges will include professional computer scientists attending the conference activities. Each student will be evaluated by a minimum of three faculty members, none of whom are affiliated with the student's university.
Past Winners
Use the "Winners" navigation menu to see winners from past ACM Student Research Competitions.
Participation Requirements
Participants must register for the host conference as well as be currently enrolled in a university or college and have an active ACM student membership
Team projects will be accepted from Undergraduate students. One person should be designated by the team to attend the conference and make the oral presentation. Should the designated presenter win first, second or third place in competition only they will receive the medal and monetary award. Only individual research is accepted from Graduate (Masters or PhD program) students; group research projects will not be considered. If an individual is part of a group research project and wants to participate in an SRC, they can only present their part of the research. Only they will receive the medal and monetary award (should they win).
Qualifying research areas are those covered by the conference; these are specified in the conference's call for papers. For the SIGCSE Student Research Competition, qualifying research areas are those areas not already covered by other SIG-based competitions held during the same program year.
Students may only participate in one SRC per program year (April 1- March 31). Students that have applied to an SRC, but have not been accepted, may respond to other SRC calls for participation during the program year.
Timeline
Call for Submissions

Each conference hosting an SRC will have a Call for SRC Submissions, usually posted about 5 months in advance of the conference. This usually entails an abstract of no more than 800 words, sent directly to the SRC chair for that conference.

Selection of Participants

The conference chooses academics and/or industry professionals to review submitted abstracts. These reviewers use an evaluation form that is based upon standard conference reviewer forms. Abstracts receiving the highest reviews will be invited to compete in the first round of the competition at the conference, also known as the Poster Round. See the "For Students" section for more details.

First Round of Competition, "The Poster Session"

A special session for the SRC will be announced once students arrive at the conference. Each student will prepare a poster for this round. Specifications on poster size and content are defined by individual SRC chairs. Students are expected to discuss their work with evaluators who visit their presentation areas. Each evaluator will rate the student's visual presentation based on uniqueness of the approach, the significance of the contribution, visual presentation, and format of presentation. The evaluation criteria can be found under General Judging Criteria .The evaluator's results will determine the semi-finalists for the undergraduate and graduate categories. The list of semifinalists will be posted within an hour of the closing of the first round.

Second Round of Competition, "The Presentation Session"

A separate session is scheduled for semifinalists to give a ten minute presentation followed by a five minute question and answer period. This session will be attended by the evaluators and any interested conference attendees. The top three finalists in each category will be chosen based on these presentations.

Announcement of Three Finalists in Each Category (undergraduate and graduate)

This usually takes place at a well-attended session of the conference. Each student will receive their monetary prize and their medal after the conference. The first place winners will compete in the Grand Finals, which take place toward the end of the program year.

The Grand Finals

First place undergraduate and graduate student winners from the SRCs held during the year advance to the SRC Grand Finals. Students must submit to ACM headquarters an overview of their research that adheres to the format of problem & motivation, background & related work, uniqueness of the approach, and their results & contributions. This submission must be in PDF format with no external links or external style sheets and should not exceed 4,000 words and 5 printed pages. Evaluations are conducted online by faculty and/or industry professionals associated with the ACM SRC Committee.

View papers from previous Grand Finals candidates.
Submitting Your Work
The SRC chairs at each SIG conference draft their own calls for submissions/participation. Students must email an abstract of their work to the respective SRC chair, and those who are chosen to attend the conference must create a poster and presentation based on specifications set by the SRC chairs. To see the open calls for submissions and contact information for SRC chairs, please click here.
Students can gain many tangible and intangible rewards from participating in one of ACM's Student Research Competitions. The ACM Student Research Competition is an internationally recognized venue enabling undergraduate and graduate students to earn:
Awards: cash prizes, medals, and ACM student memberships
Prestige: Grand Finalists receive a monetary award and a Grand Finalist certificate that can be framed and displayed
Visibility: opportunities to meet with researchers in their field of interest and make important connections
Experience: opportunities to sharpen communication, visual, organizational, and presentation skills in preparation for the SRC experience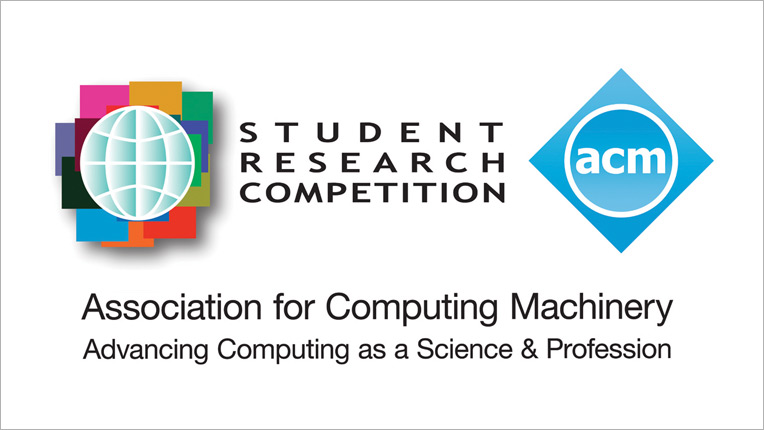 2023 SRC Grand Finals Winners
Zhe Liu: Chinesea Academy of Sciences, Juan Carlos Alonso Valenzuela: University of Seville, Irene Zanardi: Università della Svizzera Italiana, Switzerland, Takahito Murakami: University of Tsukuba, Raphael Douglas Giles: University of New South Wales and Christopher Bain: University of Baltimore, Maryland County were the 2023 Grand Finals winners of ACM's Student Research Competition.
The SRC Grand Finals are the culmination of a year-long competition that involved more than 249 computer science students presenting research projects at 19 major ACM conferences.