ACM SRC Grand Finals Candidates, 2020 - 2021
2021 Grand Finals Judges
Dr. Laurie Williams - N.C. State University
Douglas Baldwin - SUNY Geneseo
Dr. Evelyne Viegas - Microsoft
A. Mani - ISI, International Rough Set Society
Aderonke Thompson - Federal University of Technology
Adwait Jog - William and Mary
Alejandro Valero - University of Zaragoza
Ann Gentile - Sandia National Laboratory
Bernd Mohr - Juelich Supercomputing Center
Bonita Sharif - University of Nebraska - Lincoln
Chris Gniady - University of Arizona
Christine Gerveshi - Intel(retired)
Christoph Bockisch - Philipps-Universitat Marburg
Chunyang Chen - Monash University
Erik Altman - IBM
Giridhar Mandyam - Qualcomm
Hai Ah Nam - Los Alamos National Lab.
Haipeng Cai - Washington State University
Hamid Pirahesh - IBM
Jay McCarthy - UMass Lowell
Jeanna Matthews - Clarkson University
Jeff Lait - Side Effects Software Inc.
Jesús Alastruey- Benedé - Universidad de Zaragoza
Joan Krone - Denison University
Joshua San Miguel - University of Wisconsin
Juan José Costa - Universitat Politècnica de Catalunya
Lu Xiao - Stevens Institute of Technology
Marc Olano - University of Maryland, Baltimore
Maria Pantoja - Cal Poly
Melina Mongiovi - Federal University of Campina Grande
Miroslav Velev - Aries Design Automation
Muztaba Fuad - Winston-Salem State University
Navendu Jain - Microsoft
Olayinka Jinadu - Rufus Giwa Polytechnic
Olga Baysal - Carleton University
Ori Lahav - Tel Aviv University
Otasowie Owolafe - Federal University of Technology
Raja Kushalnagar - Gallaudet University
Renato Mancuso - Universitat Boston University
Ren-Shuo Liu - National Tsing Hua University
Robert Wille- - Johannes Kepler University
Sarah Chasins- - UC Berkeley
Srinivas Katkoori - University of South Florida
Stephanie Ludi - University of North Texas
Theodoros Chondrogiannis - University of Konstanz
Thorna Humphries - Norfolk State University
Timofey Bryskin - JetBrains Researchs
Tobias Pape - University of Potsdam
Vaishnavi Ranganathan - Microsoft
Vijayalakshmi Saravanan - University at Buffalo
Vladimir Kovalenko - JetBrains
Yasuko Eckert - AMD
Youyou Cong - Tokyo Institute of Technology
Yufei Ding - UC Santa Barbara

Written by leading domain experts for software engineers, ACM Case Studies provide an in-depth look at how software teams overcome specific challenges by implementing new technologies, adopting new practices, or a combination of both. Often through first-hand accounts, these pieces explore what the challenges were, the tools and techniques that were used to combat them, and the solution that was achieved.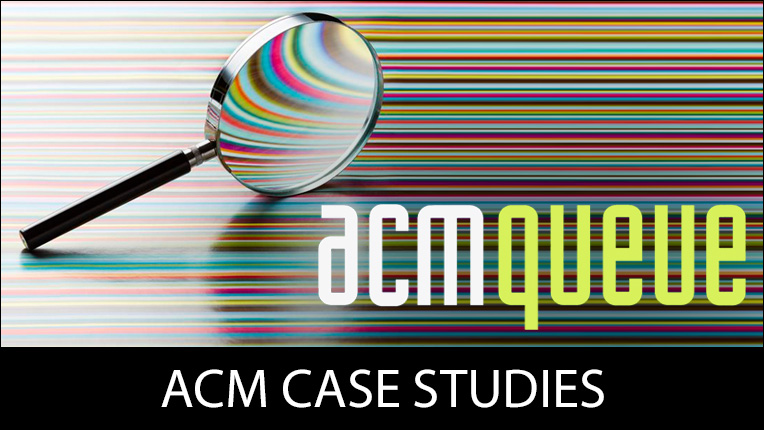 Career Resource
ACM offers lifelong learning resources including online books and courses from Skillsoft, TechTalks on the hottest topics in computing and IT, and more.