GRADUATE CATEGORY
First Place:
Danny Dig
Title of Submission: Using Refractorings to Automatically Update Component-Based Applications
Second Place:
Uri Dekel
Title of Submission: Supporting Distributed Software Design Meetings: What Can We Learn from Co-located Meetings?
Third Place (Tie):
David Janzen- University of Kansas
Title of Submission: Software Architecture Improvement through Test-Driven Development
Third Place (Tie):
Ruth Lennon
Title of Submission: Optimization of Service Provision for Composite Website Services (CWS)
UNDERGRADUATE CATEGORY
First Place:
Yuki Mori - University of Tokyo
Second Place:
Toshiya Hachisuka
GRADUATE CATEGORY
First Place:
Tiberiu Popa
Second Place:
Daniel Keefe
Third Place:
Masanori Kakimoto
GRADUATE CATEGORY
First Place:
Joel Koshy
Second Place:
Albert F. Harris, III
Third Place:
Yaling Yang
ACM Queue's "Research for Practice" is your number one resource for keeping up with emerging developments in the world of theory and applying them to the challenges you face on a daily basis. In this installment, Dan Crankshaw and Joey Gonzalez provide an overview of machine learning server systems. What happens when we wish to actually deploy a machine learning model to production, and how do we serve predictions with high accuracy and high computational efficiency? Dan and Joey's curated research selection presents cutting-edge techniques spanning database-level integration, video processing, and prediction middleware. Given the explosion of interest in machine learning and its increasing impact on seemingly every application vertical, it's possible that systems such as these will become as commonplace as relational databases are today.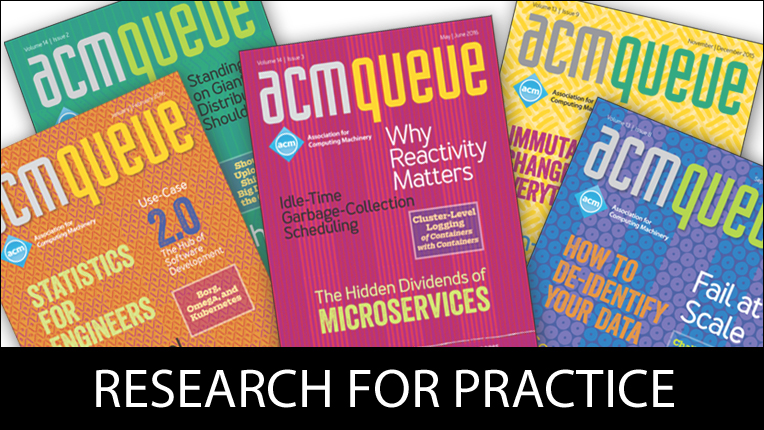 You can use your technical skills for social good and offer volunteer support on software development projects to organizations who could not otherwise afford it. SocialCoder connects volunteer programmers/software developers with registered charities and helps match them to suitable projects based on their skills, experience, and the causes they care about. Learn more about ACM's new partnership with SocialCoder, and how you can get involved.